MICHAEL WINSLOW, THE MAN WITH 10,000 VOICES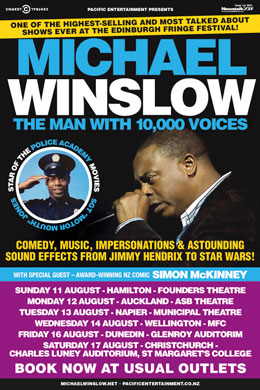 In 2011 when Michael Winslow, best known for his role as Sgt. Jones in the Police Academy movies, first appeared at the Edinburgh Fringe Festival, the world's largest arts festival, the Hollywood legends' name was practically unrecognized.  He left a month later as one of the highest selling, greatest reviewed, most talked about performers the festival has ever seen.
Michael had captivated and amazed his audiences with his mastery of vocal gymnastics, incorporating into his humorous comedy impressions the sounds of everyday life plus imitating the impossible using only his voice, from the screeching guitars of Led Zeppelin and Jimmy Hendrix to a battle scene from Star Wars with Michael voicing every sound and every word.  The combination of his special gift and endearing personality made for a very infectious show.
Very few, if any can make as many realistic sounds as Michael Winslow or string them together with such quick-fire ease.  It's a skill that can't be replaced by any single mechanical medium and why Michael is in such high demand to lend his talent to voicing so many games and app's.  Chances are that if you're into PlayStation and Xbox games you've been listening to Michael without realising it.
Michael grew up on the Fairchild Air Force Base where his father had been stationed, imitating airplanes and jet engines, and creating imaginary friends, cats, dogs; pretty much anything that would keep him amused for a while.  The pastime would eventually become his trademark, leading to success on the comedy circuits in LA and New York where the producers of Police Academy saw him perform in 1984 and immediately wrote him into their unforgettable movies.  He's also had starring roles in Spaceballs and Robo Doc and as the voice of Stripe in Gremlins, plus lent his talents to various TV series such as Family Guy and The Simpsons.
New Zealand audiences can also expect to be thoroughly entertained by Winslow's captivating show when he tours this August.  A mix of impersonations, impressions, stories and music using his staggering arsenal of vocal sound effects - not a traditional stand-up comedy routine but a fascinating sound fuelled adventure that will include everything that had amazed in Edinburgh.  His talent is truly remarkable and his versatility admirable and enjoyable for all ages.
New Zealand guest support artist, awarding winning stand-up impressionist, Simon McKinney, performs a 30-minute set to kick-off a night that is guaranteed to wipe away any winter blues.
Check out the Youtube excerpts that we have put together to give you a taste of what to expect...
and then click the link to buy your tickets.  You won't be disappointed.