Ian Magan (Consultant and Joint Venture partner)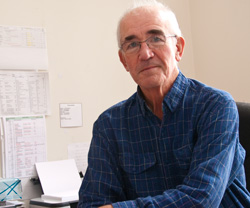 Ian Magan is a pioneer of both commercial radio and concert promotion in New Zealand.  In the 1960's he was one of the original team of DJ's that started pirate radio broadcasts from a ship in the Hauraki Gulf, which was to later become known as Radio Hauraki.
Leveraging the contacts made from his high profile days in radio, Ian went on to form the Concert Promotions Company in 1975 that later became Pacific Entertainment in 1995.  Having been involved with some of the biggest and most successful tours ever promoted in New Zealand, some of which still hold unbroken records for gross returns and/or capacity numbers, Ian is simply the most experienced and respected promoter in New Zealand.
Loyalty and "old school" hard work and values have been the cornerstone of Ian's career.  Friendships formed with many artists have seen them return to tour with Ian time and time again and he is well loved by all of the local entertainers whose careers he has helped to launch over the years.
He is held in high regard throughout the entire entertainment industry in New Zealand (encompassing the broad spectrum of commercial radio, TV, live entertainment, labels, and governing bodies i.e. APRA etc).  He is presently the Chairman of the New Zealand Entertainment Operators Association (NEOA).
Although now at an age when many have retired, Ian's vitality and passion for the business still keep him involved.  Pacific frequently works with Ian both in consultancy and joint venture risk partnerships.  His experience and friendship are invaluable.